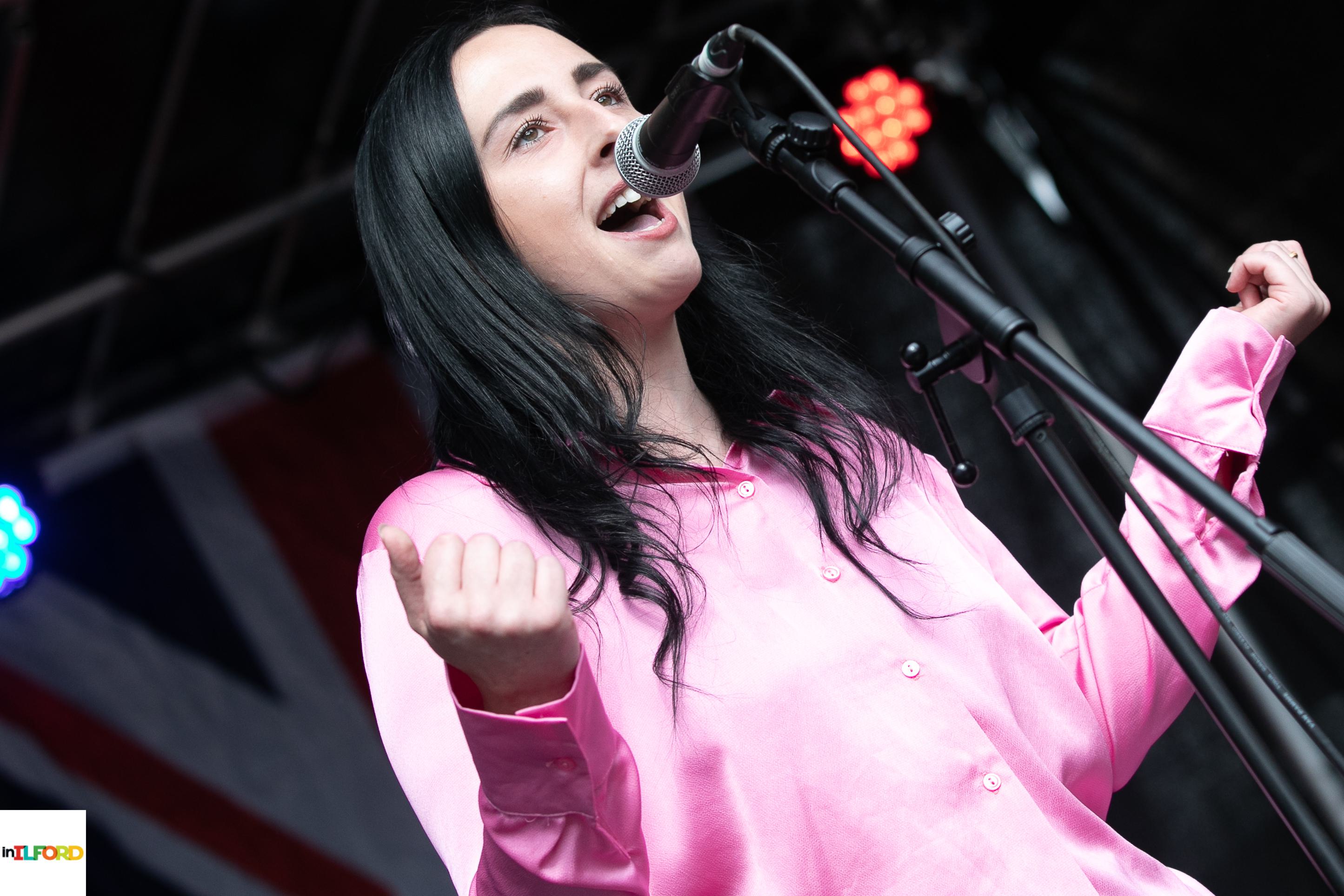 One of the undoubted highlights of a memorable Jubilee weekend has to be the Talent Show enjoyed by a huge turnout in the Town Centre on the Saturday afternoon. In glorious sunshine and basking in an atmosphere of fun and celebration, the gathered masses were treated to a feast of spectacular dance routines, uplifting instrumental solos and inspiring vocal performances.
There were worthy winners in several categories, but the most eagerly awaited results were unsurprisingly in the People's Choice section. To this end, the Ilford public proved to be excellent talent spotters in choosing some truly exceptional star turns, each deserving of individual praise and further recognition.
In 3rd place was a 28-year-old singer who goes by the stage name of Kaylasings. Originally from Dagenham, she wowed the appreciative crowd with 3 of her own excellent R & B style compositions including the recent YouTube release Sweet Boy.
Her musical journey began as a 15-year-old which saw her start collaborating with established artists such as Devlin and Dogzilla. In 2012 aged 18, this promising beginning was put on hold with the birth of daughter Maddison. Recording music and trying to get your first big break is time consuming and does not come cheap, so Kaylasings happily chose to put her resources into bringing up baby. Her budding career then went into virtual hibernation, although the enthusiasm for singing remained intact.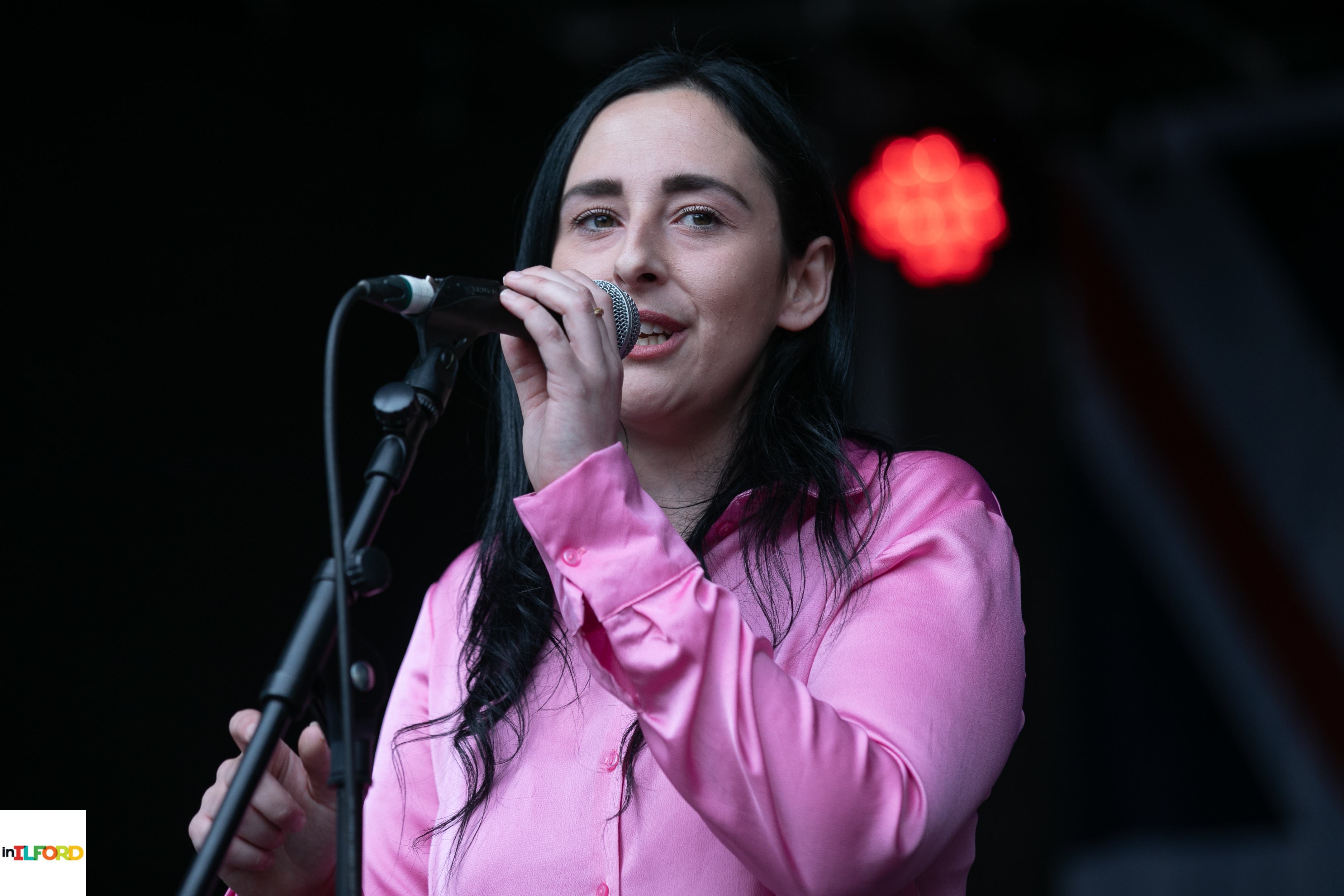 Her musical prospects started to pick up again late in 2021 when she was introduced to the GHM wave record label. This led to her recording in the studio with the likes of Casso Blax and Goose Da Rockstar and saw the rebirth of her singing ambitions. Furthermore, Kaylasings was encouraged to write her own material for which she definitely has a gift and the potential to go a lot further.
More recently she has made appearances at a number of venues including the Brighton Festival and of course here in Ilford and her exciting journey is back on track. Watch out for a new garage EP featuring Kaylasings and many influential names in the world of music, which is due for release very soon. For more information, please contact kaylasingsuk@icloud.co.uk. We wish her well in all her endeavours.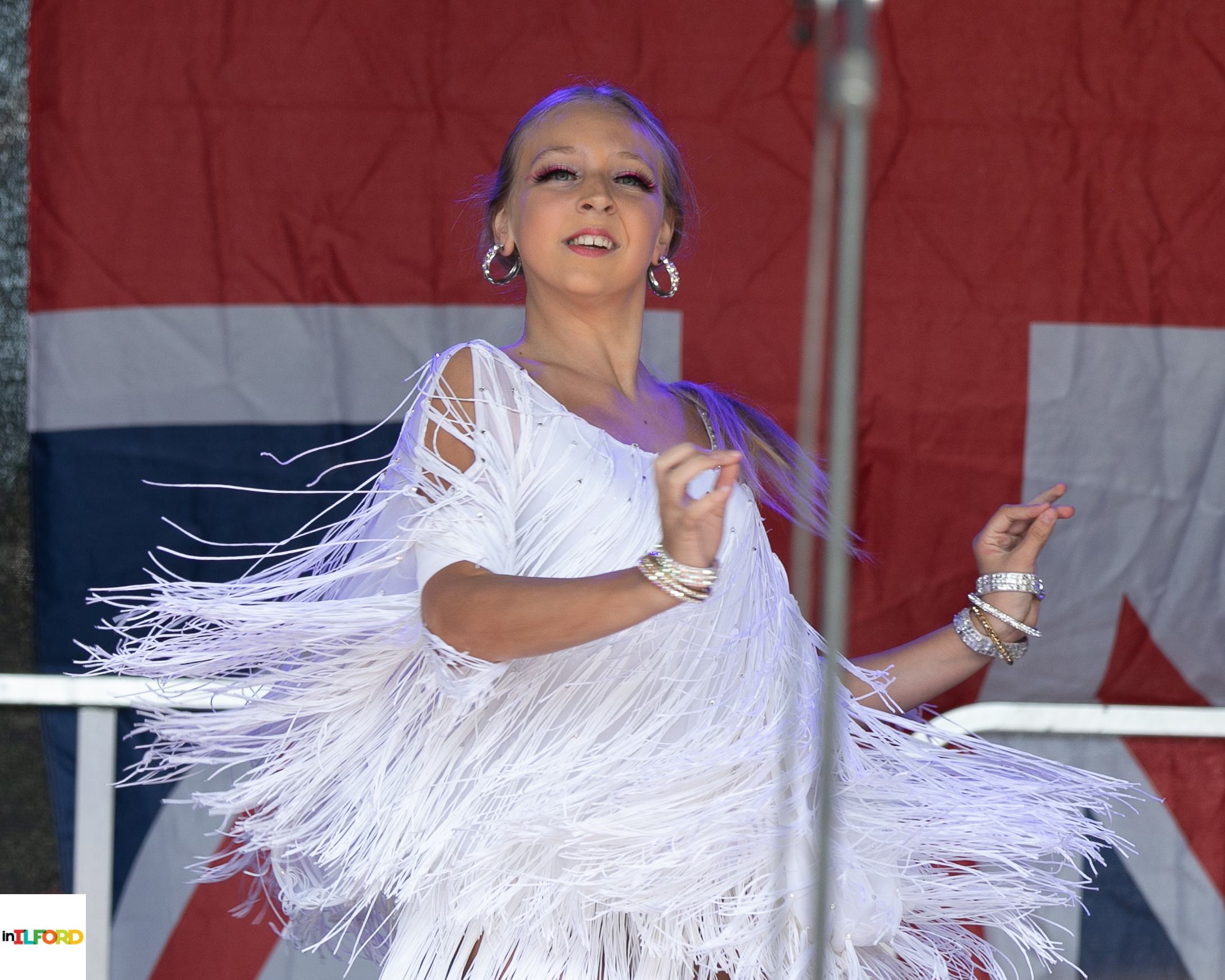 Finishing 2nd and at just 12 years old was the highly proficient and very accomplished solo dancer, Martina. Living in Redbridge and attending the Amber Dance Academy, she manages to balance around 8 to 10 hours a week of practice for 5 types of Latin and 5 types of Ballroom dancing along with her school studies, which are also very important to her. This degree of commitment really pays off because she is an outstanding performer for her age and her parents, originally from Lithuania, are rightly proud.
Up until now Martina has performed mainly in school and at organised dance competitions where she has excelled. It was quite a leap of faith to appear on stage in front of a massive, expectant audience and experience the full pressure of going live and being 'under the microscope'. Needless to say, not only did she cope with the situation, but she clearly won the hearts and minds of all present.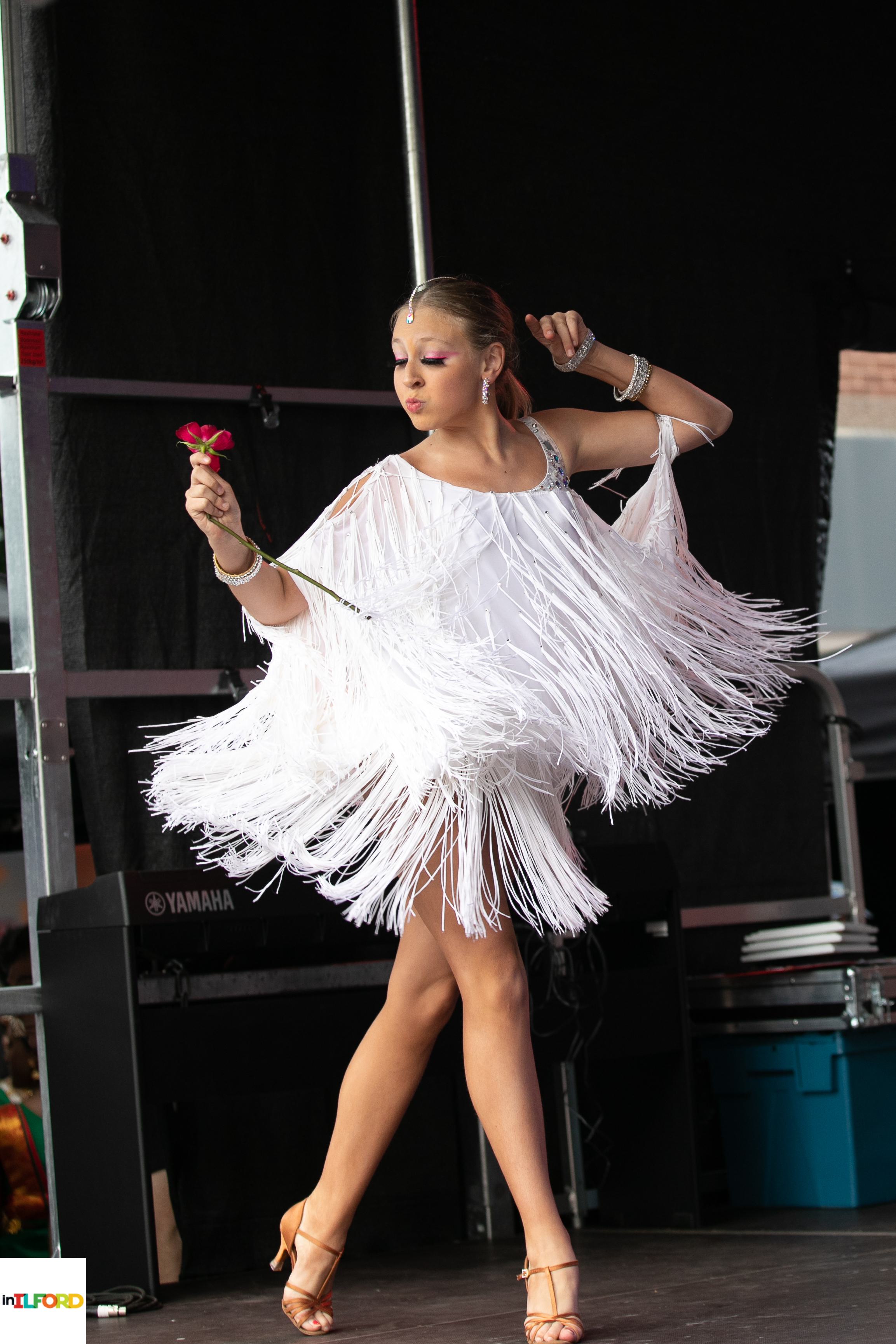 An important period in her development could have been ruined by the pandemic, but that's not Martina's way. She continued lessons and also competed in numerous competitions via Zoom. This meant either dancing in her living room or in the garden and sometimes even on the driveway. It came as no surprise really that she won the majority of them, including when taking part in the Blackpool Dance Festival Online (which was open to the world) and even picking up a prestigious trophy from the family homeland of Lithuania. Having said that, she is delighted to be back performing in front of real, live people.
Martina's final year as a Juvenile performer has been a roaring success but now faces the challenge of moving up an age group and pitting her skills against older rivals.
She can now be seen in action on Facebook. If you would like more information, please contact Jolantike@yahoo.co.uk. We wish her continued success as she competes at the next level.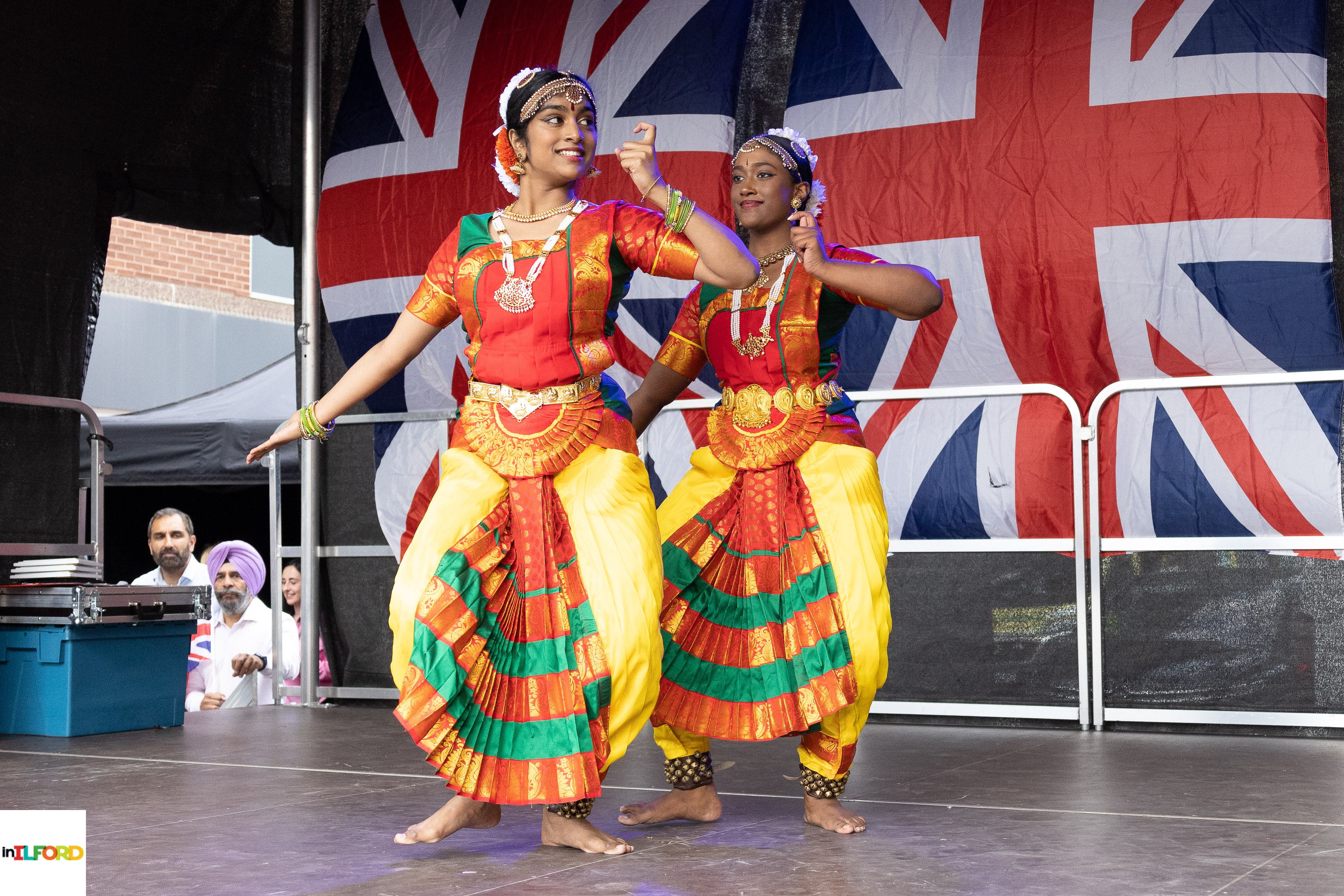 In pride of place and the overall winners of the People's Choice vote 2022 were the delightful Nivetha and Abhinaya. They are both students of the Sakthi Fine Arts Youth Dance Group in Ilford where they are trained meticulously by dance Guru Anusha who is also Nivetha's mum. A combination of the vibrant colours, harmonious sounds and symmetrical movements of their performances enchanted and mesmerised the watching masses to win the day. A wonderful example of hard work and dedication paying off.
They have both completed their Diploma in Bharatanatyam which involves 10 years of weekly lessons. It requires the learning of many hand gestures, feet positions, complicated rhythmic patterns and storytelling in order to recreate this 3,000-year-old temple dance form. As a consequence, they are also learning self-discipline, teamwork, sticking to a deadline and building confidence.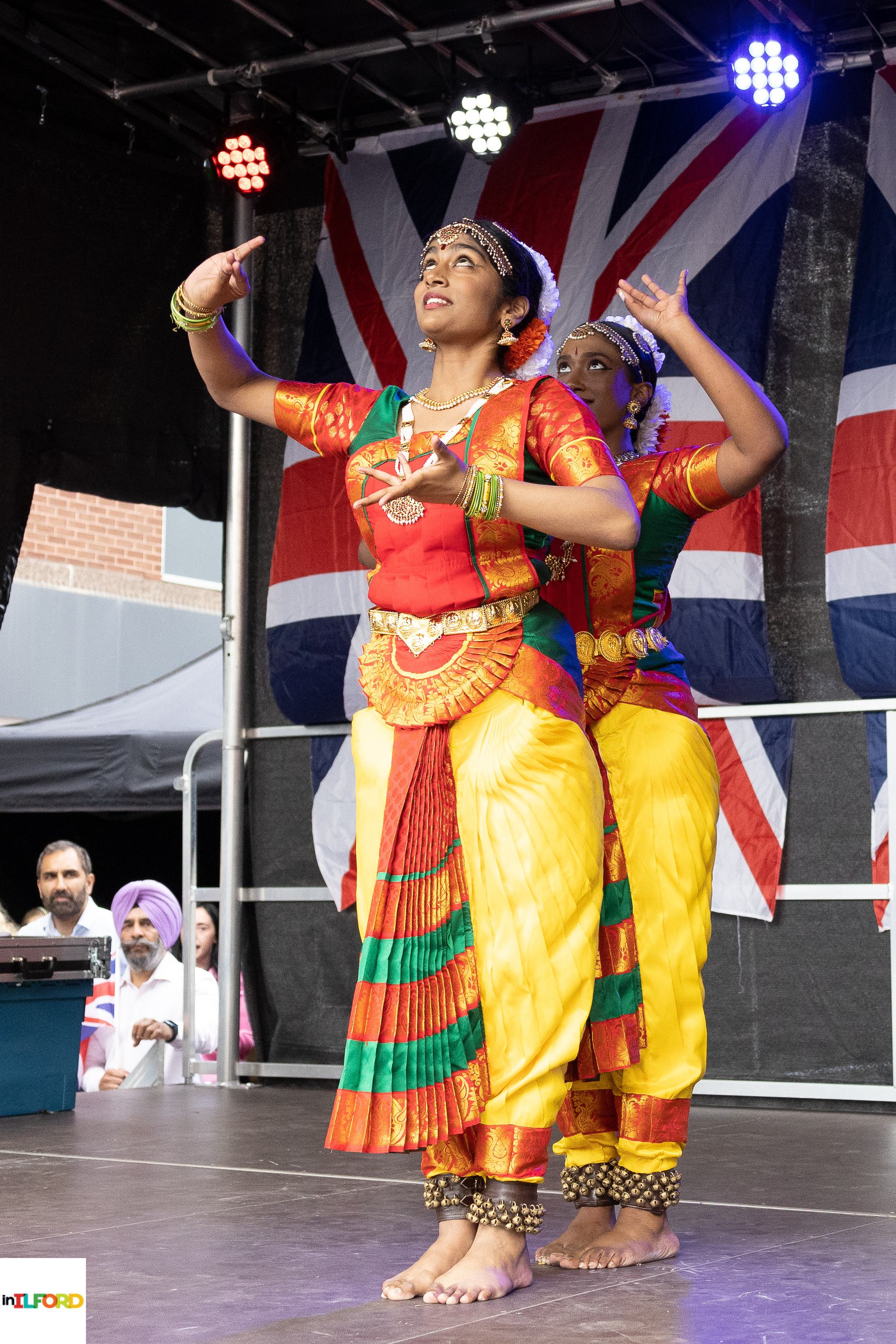 The girls, both about to complete Year 10, have won multiple dance competitions and given many charity performances locally and around the UK. They also volunteer at the Youth Dance School and are now working on their Post Diploma.
Anusha chose the songs and choreographed the 3 dances, starting with a traditional warm-up routine known as the Alaripu. This was followed by the Ardhanarishwar dance symbolising the equality of men and women. The final piece being a fusion of Indian classical dance to a remix of the popular Swalla Song. Rehearsals took place in each other's houses and the end result was well worth the effort as we witnessed a quite magical display on the day.
Nivetha and Abhinaya were most excited at the prospect of showcasing their talents and promoting their South Asian Heritage, of which they are very proud, at this 'once in a lifetime' Jubilee celebration. If you would like to know more, please contact sakthifinearts@yahoo.co.uk.
We send our best wishes with the girls on their quest to spread this artform all around the country.
Finally, we would like to thank everybody who contributed to this fabulous event!